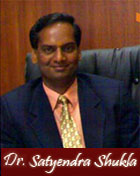 "Vedic Vastu & Astrology Research centre" is a part of Shukla Group of Company. A visionary Mr.Mahendranath Shukla founded Shukla Group of company.
Year 1992: Under this group company logistic business was first initiated by the name of Shukla Transport Company in Aurangabad (Maharashtra).
Year 2005: After a huge success in Logistics, SUMERU INFOSYTEM PRIVATE LIMITED FIRM was incorporated by Dr.Satyendra Shukla, a purely Website development and internet marketing company since 2005.
Year 2008: Vedic Vastu & Astrology Research centre was formed with the sole intention of serving the society thru the ancient vedic knowledge and transforming their life and career by implementing the expertise and successfully proven skills of vastu, numerology, rudraksh and gems. Dr.Satyendra Shukla is engineering graduate with post graduation in Management. He has done PhD. in Alternative Medicine from Sri Lanka. He carries a valuable experience of working in top companies in media, manufacturing and finance.He also has experience & expertise in the area of vastu,numerology,rudraksh,reiki and gems since 5 years.
Dr.Satyendra Shukla is Founder Member and director of Sumeru Mind Power which has been conducting Seminars and Workshops on self Development to support people to unleash the infinite potential within.(For details visit www.sumerumindpower.com)
This website will offer you knowledge and consultation in:
» Vastu
» Astrology
» Numerology
» Gems
» Rudraksh
» Reiki
We believe in transparency, round the clock service and value addition delivery to our esteemed clients with professionalism. All the products offered will be as per vedas guideline and will be 100% genuine.